the road is long, so get on my side
MP3
Ted Leo & The Pharmacists - "Walking To Do"
Ain't no big surprise, folks. If you've read this blog at all over the past nine months, there's a good chance you were reading about indie rock superhero
Ted Leo
, so he gets the last word on
The Big Ticket's Mix '04
. Ted's
Shake The Sheets
LP may not end up being my "best" album of the year, but it is my most important, my most played, and possibly my favorite. With its pop-punk hooks, progressive political content & balls-out enthusiasm,
Shake The Sheets
was simply the right record for 2004, or it was for me.
On November 3rd,
TTIKTDA
posted this track along with an insightful morning-after outlook on this fall's election that helped me keep my spirits afloat in those first few dreadful days of Dubya's second term. Keith wrote, "If we want to save this country, we've got to save it ourselves." And this song is just the optimistic theme to lead that progressive movement, to reclaim victory and the soul of America. It isn't enough to call Bush an "American Idiot" (even though that might feel comforting). People are going to have to come together if they want a better & more sane country, "
quit their waiting on the Divine
" & get to work. Personally, I have very little interest in getting involved in politics, but the current regressive state of the nation has demanded my attention more than I had ever expected. For the first time in my short life, I am actually afraid for the future of America.
But Ted Leo & "Walking To Do" give me hope.
So does
Air America
, and
Kos
,
Atrios
,
Oveis
& all the lefty bloggers. And that gives me a little something to look forward to in 2005 and beyond.
"Walking To Do" isn't the best song on
Shake The Sheets
, but it is the song I'm choosing to end this year on. If you want to hear more Ted Leo, there are several mp3's available at his website's
audio page
. For more info, check out the fan community that has sprung up over at
Timorous Me
. Ted's label
Lookout! Records
(who recently
linked to me
) has some new TL/Rx
merch
available. Ted never made it to my city this year, so if anybody wants to help me make up for my lack of TL/Rx gear, I usually wear a large, btw.
Track 01: The Arcade Fire - "Wake Up"
Track 02: Frou Frou - "Let Go"
Track 03: The Walkmen - "The Rat"
Track 04: Interpol - "C'mere"
Track 05: Franz Ferdinand - "Jacqueline"
Track 06: The Killers - "Somebody Told Me"
Track 07: Junior Boys - "Bellona"
Track 08: Kings of Convenience - "I'd Rather Dance With You"
Track 09: The Go! Team - "Bottle Rocket"
Track 10: Belle & Sebastian - "Your Cover's Blown"
Track 11: TV on the Radio - "The Wrong Way"
Track 12: Metric - "Succexy"
Track 13: The Fiery Furnaces - "Tropical Iceland" (single version)
Track 14: Apostle of Hustle - "Energy of Death"
Track 15: The Mountain Goats - "Palmcorder Yajna"
Track 16: A.C. Newman - "On The Table"
Track 17: Modest Mouse - "Float On"
Track 18: The Hold Steady - "Knuckles"
And thus concludes
Mix '04
. Does it work as a whole? You tell me. My pal
Marc
finished the mix artwork yesterday, so just click on the graphics below to download them for yourself (PDF format). I hope they print all right:
honorable mentions etc
Alas, there was only so much room on this mix & loads of great songs just missed the cut. My apologies to (in no particular order):
Joy Zipper
,
Phoenix
,
Cut Copy
,
Chromeo
,
Calexico
,
Of Montreal
,
Scissor Sisters
,
Futureheads
,
White Magic
,
LCD Soundsystem
,
Feist
,
Sahara Hotnights
,
Delays
,
Ratatat
,
Nellie McKay
,
U.S.E.
,
Rilo Kiley
,
Sondre Lerche
& many, many others.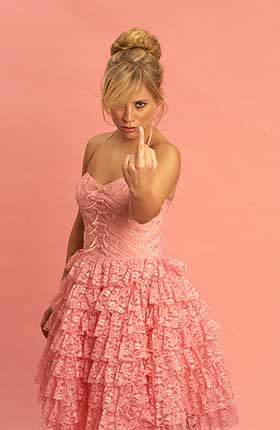 I also wish I could have included Norwegian popstress
Annie
, whose upcoming single "Heartbeat" was already named the top single of 2004 by
Pitchfork
. Annie's acclaimed debut album
Anniemal
has yet to receive stateside release, but hopefully that will change sooner than later.
Leave it to Matt @
Fluxblog
to be first on the scene posting about Annie, featuring her 1999 track "The Greatest Hit" way back in
February
. Showing that he's usually three months ahead of the curve, Matt posted "Heartbeat" back in
mid-July
, long before
Stypod
did the same in October under the heading "Next Singles." My pick for the mix would have been the "
Kylie
-times-ten" song "Me Plus One", which Matt posted in
September
.
No wonder Pitchfork described her sound as "fluxpop."
Stereogum
currently has a remix of "Me Plus One" up as part of his year-end top "catorce" that you might want to give a listen to. There is also a free download of a
"Heartbeat" remix
by original track producers
Röyksopp
that I haven't seen mentioned before. It doesn't come near the dancefloor bliss of the
Anniemal
version, but it's probably worth checking out.
Expect the tracks for
Mix '04
to come down shortly after the new year, so get them while they're up. I hope people enjoy it. Have a happy holiday!