it's not quality, it's quantity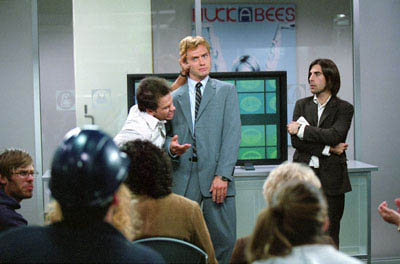 Apparently Jude Law made some crack about the
Funky Bunch
. Feel the vibration!
More upcoming movie stuff this morning. First off,
Dark Horizons
pointed me to versions of
Wes Anderson
's
The Life Aquatic
trailer with much better picture quality than the links I posted last week:
MOV
The Life Aquatic
trailer
lo-res
(12.2mb)
hi-res
(54mb)
Also, in case anybody hadn't already run across it, here's a
trailer site
for what looks to be one of the strangest/most interesting films of the fall season,
I ♥ Huckabees
. It's directed by writer/director
David O. Russell
, who last brought us the suprisingly amazing gulf war action/comedy/etc
Three Kings
back in 1999, when talking about "George Bush" was just nostalgic & funny. He was also behind the bizarre & hilarious independent comedies
Flirting With Disaster
and
Spanking The Monkey
, so this latest effort should fit nicely in his catalog. It has a great cast featuring
Dustin Hoffman
,
Jude Law
,
Lily Tomlin
, a comedic turn by
Mark Wahlberg
,
Naomi Watts
(who comes off utterly cracked & fantastic in the trailer) &
Jason Schwartzman
, in what is probably his first real notable/decent role since, well,
Rushmore
. The film goes into limited release October 1, so mark your calendars.